Degree Spotlight: Internet of Things
October 15, 2021 - $blogpost.metadata.author
Degree Spotlight Accelerated Online Programs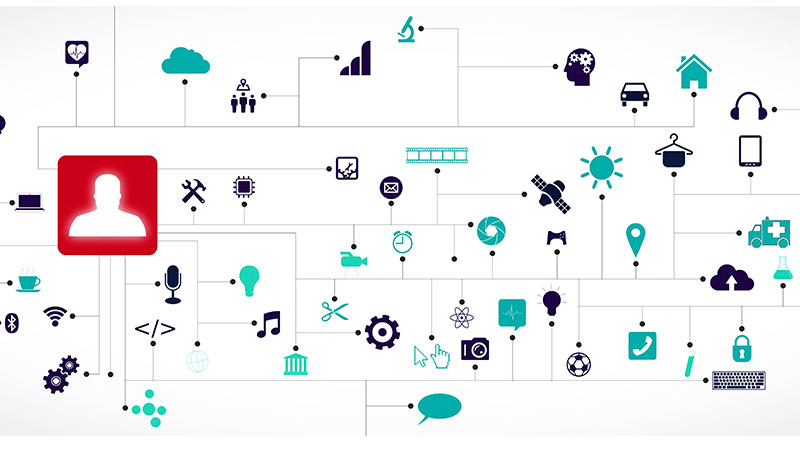 Do you use a smartwatch to track your fitness? Maybe you have a phone app that controls the lights or air-conditioning in your home. Many homeowners now employ smart doorbells with built-in cameras that allow them to see who is at the door — even when they are away from home. These are just a few common examples of an increasingly popular computer science specialization known as The Internet of Things, or IoT. This technology involves a network of interrelated objects — such as your cellphone and your smart TV — that are internet-connected and collect and send data wirelessly. UNM's Electrical and Computer Engineering Department offers a fully online Master of Science degree in this exciting and in-demand field.
Ryan Fleming was inspired to advance his education while working alongside several Ph.D.-educated coworkers in a complex, unique role, though earning his M.S. in Computer Engineering specializing in the Internet of Things (IoT) resulted in a trend he didn't necessarily expect — multiple big names in tech wanting to recruit him.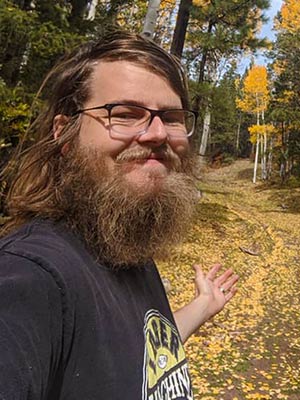 "Since getting that degree and updating it on LinkedIn, recruiters reach out to me fairly often," Fleming, a research and development engineer at Los Alamos National Laboratory, said. "It happens weekly and sometimes even multiple times in a week. People from Facebook, Amazon, Google, those types of places—will reach out for interviews."
But the degree's marketability was hardly the highlight for Fleming, who has the distinction of being the first graduate from UNM's online Internet of Things degree program. Instead, what stuck out was how his education truly impacted him, not just professionally, but personally.
Overcoming Challenges and Embracing Family Connections
Fleming's sense of professional and personal impact was also felt by the program's first international graduate, Alexis Stalin Alulema-Flores, who has worked independently as a software architect in Ecuador for the past 12 years. He began developing software when he was 12 years old and, later, supplemented that skillset with a foundation in software engineering and electronics. The decision to expand his skills and knowledge came four or five years ago when he took a class through Coursera on machine learning, data science, and, not coincidentally, the internet of things.
"It was very interesting, and I was looking to pursue a master's degree," Alulema-Flores said. "I found UNM, and I considered this to be a great opportunity because of the background that the University has in research and technical backgrounds as well." When he found that The University of New Mexico was starting an Accelerated Online Program leading to an M.S. in Computer Science - IoT degree, it was a logical choice to enroll.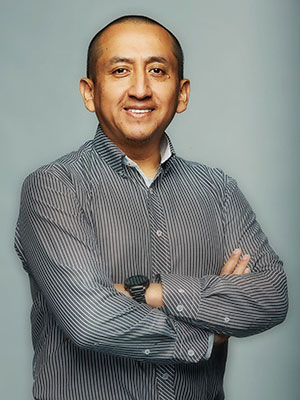 Alulema-Flores was part of the very first cohort for the online internet of things program. Though living and working in Ecuador, Alulema-Flores was still able to take advantage of the flexible, virtual format, which allowed him to study while still having time for his career and family, including his two daughters.
"It helped me to realize that we are all able to deal with the different challenges we face every day, and at the end of the courses, I realized I have enough strength to overcome challenges and face new ones in the future," Alulema-Flores said. While he balanced academics and work during the pandemic, his first daughter was also taking classes online. Working and learning from home helped him to develop stronger relationships with his daughters. "It was a growing experience," he said.
He found the same to be true in his work. Alulema-Flores mentioned how, prior to enrolling at UNM, he didn't always have the time to dig into theory. Rather, it was about fixing things or implementing copy-and-paste solutions.
Now, he was able to get the academic background to understand problems and provide solutions. "For example," Alulema-Flores said, "in cloud computing, I was able to apply that knowledge. It was good because, after I realized what the problem was, I was able to see what could be applied with Microsoft Azure, Amazon, or other kinds of cloud computing service." This experience helped him provide strong solutions for his employers. As a result, he was given more responsibility at work, performing tasks such as gathering data from devices and using deep-learning models.
Especially remarkable is how Alulema-Flores has connected what he learned in UNM's program to what he's doing with his family.
"My daughters and I started an organic farm on the balcony, and it was interesting for us to share in that experience," he said. "It was also good for me as a computer engineering student because I was able to apply the knowledge I gained from the Internet of Things courses — machine learning and software development — and I saw a lot of scenarios for further research."
"One idea I want to pursue for a Ph.D.," he explained, "is the models we can gather from farms and using the data to explore effects on pollution and the weather in town. There are a lot of other things we can learn just from growing plants. I find it fascinating, the insight gained from gathering all of this information."
Achieving Educational and Personal Goals
Like Alulema-Flores, Ryan Fleming's master's degree in the Internet of Things advanced him, and not just professionally. Earning the degree represented much more than that. Fleming grew up in an environment where drug and emotional abuse could have easily sabotaged his efforts.
"Earning this degree took dedication. I learned to push through, and not think about what it would mean for me after graduation. Even though I knew finishing the degree would lead to professional and financial success, it was not my focus. I was more interested in pushing through and succeeding in the program. Now, having earned the degree, I know I can do and be more than I ever thought was possible. Considering my childhood, and all I went through as a kid, my achievements have been really rewarding. They energize and motivate me to keep moving forward."
Getting the degree helped Fleming turn his attention to other goals. "One of the factors that my wife and I considered — having a child and things like that — was setting these educational and personal goals that I always wanted to reach before hitting other parts of my life, so that was important," he said.
They now have a 3-month-old son and Fleming has started to explore the idea of expressing himself through programming or coding art. Though his wife is a traditional artist who creates paintings and other works, Fleming doesn't have a background in art.
Instead, he grew up with a love for video games that he followed into his undergraduate degree at UNM for electronics engineering and computer engineering technology. In that program, he learned about circuitry and more about hardware, not just software, which pulled him from computer science and toward computer engineering.
After receiving his undergraduate degree, Fleming got an IT job. It paid the bills, but he didn't find it very engaging.
Six months later, Fleming was recruited to work at Los Alamos. He noticed many of his coworkers had Ph.Ds., and so, with career advancement in mind, he decided to investigate graduate school. Fleming chose Internet of Things because of how prevalent the technology is now and will be in the future. Additionally, the subject is relevant in the nature of his current work, which is taking physicists' ideas that are formulated in a research and development group and translating them to be useful from the perspective of data acquisition and controls.
"How do I get devices that were bought yesterday and devices that were bought in the '60s to all talk online on a network together as a cohesive system?" Fleming wondered. "Internet of things fit that well, even if on a smaller scale, because this is basically building up my own servers — my own pseudo-cloud structure — all within the labs. Because we work with classified information, I can't take advantage of [Amazon Web Services] or cloud services like that."
The degree was very helpful in preparing him for his current role, especially from a computer engineering perspective. "In particular," Fleming notes, "Dr. Jim Plusquellic's courses on FPGAs (field-programmable gate array) and considerations of hardware were very useful for understanding more abstract ideas and building them into concrete systems." He was especially enthusiastic when talking about Dr. Plusquellic's classes. "I can't plug his name enough!" he said.  "Super interesting, challenging, but fun, and very relevant."
What Opportunities Will Graduates Have?
For Fleming, obtaining the specialization in Internet of Things MS in Computer Engineering degree resulted in "a promotion and a bunch of opportunities," he said. As he mentioned earlier, he regularly gets recruited and invited to interviews from major tech companies like Facebook, Amazon, and Google.
When asked about other employment opportunities, Fleming thinks of the traditional software development roles, with engineers taking on projects on the cloud. "The experience the degree provides in working directly with AWS, Google's cloud provider, or Microsoft Azure, etc.," he notes, "is certainly something that a lot of employers are looking for in back-end engineers." 
There are also some unique roles that Fleming finds interesting such as platform engineers, who are more intermediaries, spanning the gap between front-end and back-end roles. Another role he finds interesting is that of embedded control engineers who work more with the previously-mentioned field-programmable gate array system.
He concludes, saying, "honestly, it's difficult to summarize what careers are available for the Internet of Things because, once you know how to program, once you know how to think critically and design systems, whichever one you're most passionate about, you'll probably find an opportunity there. And that seems to be what a lot of employers are looking for."
What's Next?
Discover what you're passionate about in this in-demand, versatile career field. Learn more at the program page for the M.S. in Computer Engineering with a specialization in the Internet of Things, or click the button below to request information.