About Us
UNM Online supports delivery of high-quality online courses and programs to students across New Mexico and around the world! We are committed to student success and providing educational opportunities to future leaders and innovators.
UNM Online works in partnership with academic units to launch and advertise degree programs. We support staff, faculty, and administrators across campus in various ways including coordinating the scheduling of online courses, conducting reviews to ensure course quality, analyzing online curriculum data, and ensuring the University is in compliance with distance education rules and regulations. We support prospective and current students through various communication touch points including social media, blog posts, virtual advising, email, and phone.
Quick Help
Need assistance and not sure where to look?
A Message from our Director

Pursuit of an advanced degree is an investment in yourself and contribution to your family and community. Congratulations on taking the first step in that journey by evaluating the degree options available to you thorugh UNM Online. You may be familiar with the University of New Mexico as the university close to home, or you may be new to UNM, attracted to one of our degree programs and low tuition cost. Regardless of how you found UNM, "becoming a Lobo" means pursuing a degree from an institution with nationally ranked programs, world-class research faculty, and a campus culture that celebrates diversity. Whether online or in person, Lobos benefit from high quality courses, respected faculty, and a constellation of opportunties and services. We're glad you're here.
We want  an invv about the accelerated online programsWe want you to experience the power that comes from having a degree form UNM. It means realizing your potential by developing new skills and harnessing campus services. With work, family, and other commitments, online education is a clear path to reaching your educational foals. Read on to get to know our student success specialists. They are prepared to help you weigh options, dispel myths about online education, digitally navigate the university, and connect you to the right people. We look forward to connecting.
Meet Your Student Success Specialists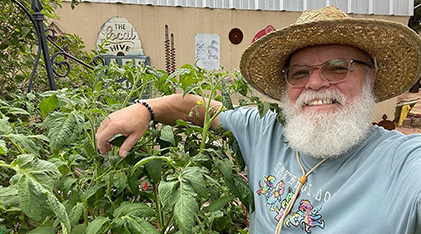 Rick Robb, MFA, Sr. Student Success Specialist. Rick has been at UNM since 2007 and is a first-generation student who graduated UNM with a BA in English ('09) and an MFA in Creative Writing ('12). Before joining the student support team at UNM Online in 2020, he taught first and second-year writing in-person and online at UNM for ten years. In his spare time, Rick enjoys gardening and getting out in nature.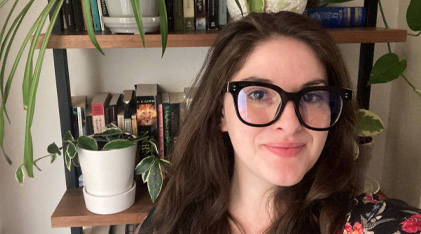 Olivia Torres Jojola, BA, Student Success Specialist. Olivia is a first-generation student who graduated UNM with her BA in English and minor study in Art History. With ten years' experience at UNM, she provides resource connection through her student advocacy background. In her spare time, Olivia likes to explore local craft beer and food truck offerings, gardening, and experimenting in the kitchen with cooking and baking.
about the degree program
UNM Online's student success specialists are experts in "wayfinding". They have insight into the academic and support services successful students rely on. As you will find from their blog posts, and are extremely knowledgeable about navigating the University.  
They send welcome emails to online students just before the start of each semester. Later, a check-in email to help students gear students up for midterm exams is sent. You may chat with them through virtual advisement hours held twice a week. Drop-ins are most welcome! They're also available Monday to Friday, 8:00 a.m. to 5:00 p.m. by email at online@unm.edu and phone at 505-277-9000.
The UNMBot is available to answer questions 24/7. It is accessible on any page at the UNM Online website at online.unm.edu. If the chatbot is stumped, Rick or Olivia will do the research and follow up.
Contact Us
Hours: Monday – Friday, 8:00 a.m. -5:00 p.m. MST
Web: online.unm.edu
Email: online@unm.edu
Phone: Albuquerque: (505) 277-9000 or Toll free: (866) 869-6040
Virtual Advisement Hours: Join us on Zoom for virtual Advisement Hours Tuesdays and Thursdays from 10 a.m. to noon (Mountain Time). Meeting ID: 967 7118 3893