Apply to UNM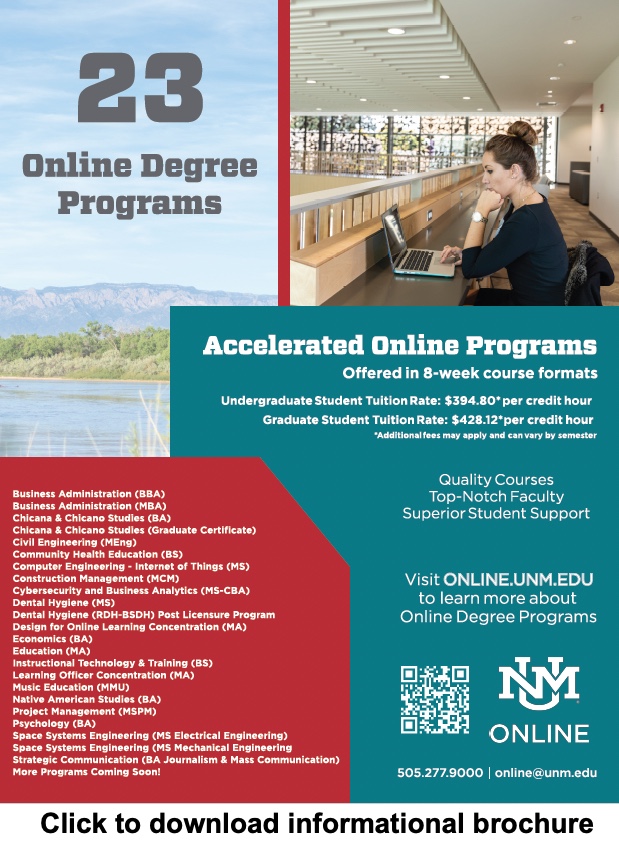 Students admitted to UNM Main Campus are eligible to take classes online. This page is an overview of UNM's admission and registration processes. If you need further assistance, contact UNM Online or a degree program advisor.
UNM Online
Email: online@unm.edu
Local Phone: 505-277-9000
Toll-Free: 1-866-869-6040
Degree Program Advisors: determine your online program of interest to connect with the appropriate departmental advisor, or contact UNM Online. 
---
Admissions Procedures
Undergraduate Application Process
Apply to UNM at UNM Applications website. For admission information, visit the UNM Admissions website.
To apply today, you may go directly to the appropriate admissions site:
As a short guideline, you will need to submit these items to the Admissions Office:
Completed application form for Undergraduate Admission. The application can be completed and submitted either in hard copy or online. Application deadlines are:

registration deadline dates

| Semester | Freshman | Transfer | International |
| --- | --- | --- | --- |
| Summer | May 1 | May 1 | March 1 |
| Fall | May 1 | June 15 | May 1 |
| Spring | November 15 | November 15 | October 1 |

Official high school transcript(s) with class rank; or official GED scores.
Official transcripts from all accredited colleges and universities attended (if applicable).
Official ACT or SAT-I scores.
A nominal, non-refundable application fee. Find the amount for your admission using the  "Apply to UNM" link above. You may pay the fee online with a credit card or submit a check or money order payable to:
The University of New Mexico
Office of Admissions
P.O. Box 4895
Albuquerque, NM 87196-4895
Application Status
Check the status of your online application
To check the status of your paper application, call the Admissions Office at (505) 277-8900.
Graduation Project
The Graduation Project is a resource for students returning to UNM after a break in studies. Students in good academic standing with 90 or more earned credit hours seeking their first bachelor's degree are encouraged to complete the interest form before applying to the university.
Graduate Application Process
Please visit the Office of Graduate Studies website to learn more about the various application procedures:
Registration Procedures
NetID and Password
Each student must have a UNM NetID in order to register for classes. This is required for many other important things such as checking financial aid, creating a UNM email account, and accessing online course content. Students must have been admitted to UNM at least one day prior to attempting to create their UNM NetID. There is no charge for this account. Get your UNM NetID. You will be asked for your date of birth and social security number to complete this process.
Maintain your UNM NetID settings
Orientation
All degree-seeking UNM students are required to attend New Student Orientation to assist with their transition to the University. (Orientation is not required for non-degree students.) UNM offers orientation programs for first time freshmen, transfer and non-traditional students, returning students, dual and concurrent students, and family members. If there is absolutely no way you can attend orientation in-person, please call New Student Orientation at (505) 277-3361 to discuss your options.
Register for Classes
To register for classes, use the class registration portal called LoboWeb. It is accessed by logging into your MyUNM account, following these instructions,
Visit https://my.unm.edu and log in with your NetID and password
Access LoboWeb, once signed into MyUNM
Within LoboWeb, select the "Student Tab" followed by "Registration & Records"
Select "Registration (Add/Drop), Course Search, Check for Holds"
Review the helpful information on the Registration at UNM page
Scroll down the page and click on the link, "Registration Portal"
You are now on the landing page with 4 options
Select "Register for My Classes"
Select a semester/term and continue
Student Consent: To register, you must agree to student financial responsibility
If you know the CRN(s) for your course(s), select the blue "Enter CRNs"
If you need to search for courses, select "Find Classes"
Use the Advanced Search to find online courses
Select the "Online & ITV" option in the Campus Menu
Tuition and Fees
Student Account Access
A student's billing account is accessed by logging into LoboWeb. To avoid being dropped from a course, payments must be made before each semester's start date.
Accelerated Online Program courses are subject to special tuition rates. Apart from AOP courses, the University assesses regular tuition and fee rates to online courses.
To access your UNM Account:
Go to log in to myUNM with your UNM NetID and password
Click on the 'Student Life' tab, then click on LoboWeb
From the Student Life tab, select the 'Make Payment…'
Then click on the 'UNM Account Suite' button
Finally, click on the upper 'eBills' tab