Program Overview
The University of New Mexico is pleased to offer an online degree completion program for the BA in Economics. An Economics degree is an excellent choice for those interested in public policy and market research and students pursuing careers in business, government, and non-profit organizations. A major in Economics also provides excellent preparation for advanced degrees in Economics, Business, Planning, Medical School, and Law. Economics students make particularly good law school applicants (and outperform other majors on the LSAT), likely because both fields emphasize highly analytical thinking.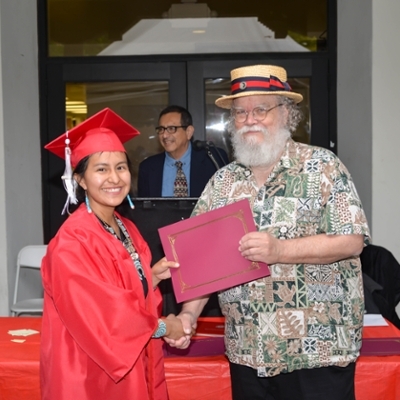 What's the best way to reduce carbon emissions? Is a green economy possible? What should be done about the federal budget deficit? Will graduating seniors ever collect on Social Security? Can government policies reduce unemployment? Is crime an economic problem? Is obesity an economic problem? Why are some countries rich and others poor? Does international trade help or hurt workers in the United States? 
Economics provides answers to questions like these by helping students further develop analytical and quantitative skills, including modeling and data analysis, to better understand how societies and markets allocate scarce resources, how incentives shape human behavior, and why there are tradeoffs in virtually all public policy options. Our program is designed to help students understand macroeconomic relationships that explain economic growth, unemployment, inflation, and exchange rate fluctuations. Students will also learn about the microeconomics of household and consumer choices, the public sector, industrial organization, labor and human resources, health, natural resource use, the environment, trade, and development.
Learning Goals
A. Theory
A.1. Students will be able to explain, graph, and analyze key economics models.
B. Institutional Context
B.1. Students will be able to analyze the economics and institutional arrangements of specific regions, countries, organizations, localities, industries or firms.
C. Data Analysis
C.1. Students will be able to generate and interpret summary statistics and regression models.
C.2. Students will be able to identify data sources, describe appropriate empirical tools, and perform research on data they retrieve from original surveys, or official and industry sources.
D. Critical Thinking 
D.1. Students will be able to evaluate economic issues and public policy by using economic models or data analysis while identifying underlying assumptions of the model(s) and limitations
E. Communication
E.1. Students will be able to effectively communicate economic ideas.
F. Economic Citizenship
F.1. Students will be able to formulate informed opinions on policy issues and recognize the validity of opposing viewpoints.
Admissions
Tuition and Fees
Regular UNM tuition and fees apply.
To complete an undergraduate degree, students must fulfill UNM General Education requirements and college-specific requirements.
To graduate with a BA degree in Economics, a student must complete a minimum of 120 credit hours. UNM requires 31 credit hours distributed between seven areas to complete the UNM General Education requirements. The university also requires completion of a 3 credit hour U.S. and Global Diversity and Inclusion requirement. Students may transfer coursework from other accredited institutions to fulfill these requirements. The online Economics program is designed for students who have completed an associate's degree or have at least 60-70 transferable college-level credit hours.  See program details for more information.
The College of Arts and Sciences requires a minimum of 90 credit hours taught within its departments. Students in the College of Arts and Sciences must declare a major and a minor, or two majors, or a special curriculum approved by the College. Half of the major must be completed at the University of New Mexico. A quarter of the minor must be completed at the University of New Mexico. A list of minors in an accelerated format can be found on our AOP Online Minors page.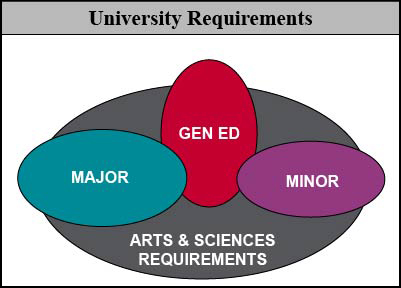 For individuals seeking a second bachelor's degree in Economics, the coursework will focus on fulfilling the Economics major requirements and the accompanying requirements necessary for a minor. UNM requires a minimum of 30 new hours for a second award.  
To earn an undergraduate degree from the University of New Mexico, the following requirements must be met: 
A 

minimum 

30 hours of coursework completed at UNM (UNM Residency Requirement)
50% of the Major completed at UNM
25% of the Minor completed at UNM
Once admitted all students seeking to declare a major within the College of Arts and Sciences will first be admitted as a Pre-major.  Pre-major status applies to students who must satisfy prerequisites or meet department conditions before transitioning to Major status. The following are the general requirements to transition:
A minimum of 26 credit hours; 23 credit hours must be in courses acceptable toward graduation
A UNM GPA of 2.0 or better
Demonstrated academic achievement by satisfying the completion of the following University General Education areas:

Communication
Mathematics and Statistics
Second Language

Completion of introductory coursework specified by each department. See the department section of the catalog for details.
There are no additional requirements for admission to the Economics program. For more information on degree and admission requirements, please refer to the UNM Catalog.
To begin the application process for any online degree program, use the Albuquerque Campus Application. In the Academics section, you will be prompted to select your Intended Field of Study. For this program, select Economics – Online (not available to freshmen).
Degree Requirements
About the Program
The online Economics program offers all of the courses associated with the major requirements needed to complete the BA in an online format.  To qualify, students must have already completed a majority of the UNM general education curriculum, as well as college and minor requirements.  A student with an associate's degree or at least 60-70 transferable college-level credit hours is ideally positioned for eligibility. Please see the information provided in the Degree Requirements tab. 
A total of 33 credit hours of Economics coursework is required to successfully complete the major-specific requirements for the Economics BA degree. The major requirements for the BA in Economics include five core courses that review both macroeconomic and microeconomic principles, both at the introductory (ECON 2110 and ECON 2120) and intermediate levels (ECON 300 and ECON 303) to help students better understand the theoretical aspects of the discipline.  The last required core class, ECON 309: Introductory Statistics and Econometrics, also helps students more deeply understand and calculate probabilities, distributions, and models of economic forecasting to better test hypotheses.  In addition to these five required core courses, students must also complete 18 additional credit hours (6 classes) of elective courses in Economics.
Below is a list of all of the required courses for the program.
Economics Required Core Courses (15 credit hours)
Economics Required Core Courses (15 credit hours)

| | | |
| --- | --- | --- |
| Course Number | Course Name | Credit Hours |
| ECON 2110 | Macroeconomics Principles | 3 |
| ECON 2120 | Microeconomics Principles | 3 |
| ECON 300 | Intermediate Microeconomics I | 3 |
| ECON 303  | Intermediate Macroeconomics I | 3 |
| ECON 309 | Introductory Statistics and Econometrics | 3 |
Note that ECON 307 (or MATH 1512 or MATH 1430) is a pre-requisite for ECON 300 and ECON 303. It is also recommended that anyone pursuing a minor or major in Economics also take ECON 307 as it will also help fulfill their Economics elective requirements. 
Economics Elective Courses (18 credit hours)
Economics Elective Courses (18 credit hours)

| | | |
| --- | --- | --- |
| Course Number | Course Name | Credit Hours |
| ECON 2130 | Personal Investing | 3 |
| ECON 307 | Economic Tools | 3 |
| ECON 315 | Money and Banking | 3 |
| ECON 330 | Consumer Economics | 3 |
| ECON 335 | Health Economics | 3 |
| ECON 408 | Economic Forecasting | 3 |

 Courses with this insignia have received the National Quality Matters Certification.
Additional Course Information
UNM operates on a semester calendar of Summer, Fall, and Spring.  Course schedules are available during each semester's registration period.  Registration opens in early April for the Summer and Fall Semesters and early November for the Spring Semester.   
View information for the current schedule of registration dates.
If you are interested in learning more about other online course offerings, see the current schedule of all online classes.