State Authorization Regulations
Are you currently enrolled or do you plan to enroll in online courses at the University of New Mexico? 
Will you live outside of New Mexico during your attendance at UNM?
If you answered yes to both questions, the following state authorization information applies to you.
Due to amendments to the Higher Education Act of 1965 along with applicable consumer protection laws in each state, an institution of higher education must be authorized by regulatory bodies in each state in which it offers distance education. This includes both online education and experiential placements, such as internships and clinical rotations.
To work towards authorization in each state, UNM joined the State Authorization Reciprocity Agreements (SARA) in 2015. SARA is a voluntary agreement between states and approved institutions, which allows universities to offer online education in participating states without having to go through a separate approval process. This reduces costs to both institutions and students, while also standardizing the criteria for distance education authorization across the country.
UNM is working to comply with individual state changes and will provide up-to-date information as it becomes available. See our current status in each state, including program availability, on our Authorization Map.
Online Course Proposals
As part of SARA, the approval of online courses must follow standard processes at the University. At the University of  New Mexico, UNM Online manages the online course proposal process, which is the standard process created to manage the approval of new online courses. Proposals for new, fully online, courses are accepted 6 to 8 months before they are to be developed. All new online courses accepted for development are provided instructional design support from Digital Learning at the Center for Teaching & Learning (CTL) and should be reviewed to ensure course quality standards. Online courses must be developed to meet minimum Federal, State, NC-SARA, and Higher Learning Commission compliance requirements, which are all included in the quality review process. If online courses are not developed to quality standards, then these online courses could be considered correspondence courses, which could jeopardize Title IV funding and the University's HLC accreditation. As well, online courses that are not developed to quality standards can negatively affect student satisfaction and outcomes in relation to those courses.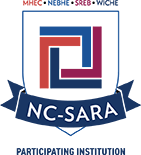 ---