Is an Online Degree Worth It? A Higher Ed Expert Weighs In
December 14, 2021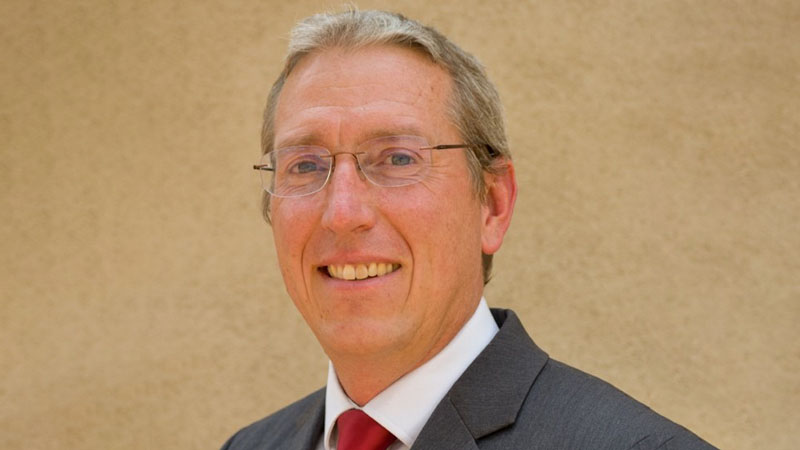 We received a phone call a few weeks ago from a prospective student who was wondering if the word "online" would appear on his diploma if he graduated from one of UNM's online degree programs. "I don't want an employer to hold that against me, that I earned my degree online."
Despite the popularity of online learning in academia, it's natural to wonder how do employers view candidates with an online degree. Do they value it as much as a traditional degree? When it comes time to decide, many prospective students wonder if it will be viewed in the same light.
Over the past 15+ years, online education has become commonplace, and with the changes that the COVID-19 pandemic brought, it has moved further into the mainstream of education at all levels. At The University of New Mexico, online learners now make up nearly a quarter of the students.
Are Online Degrees Respected?
Elisha Allen, UNM's director of online strategies and academic technologies, is an expert in online education. He's worked in the design and development of online course delivery, educational multimedia, knowledge management systems, and web-based applications since 1995. He holds an MBA earned at UNM and is an alumnus of the Institute for Emerging Leadership in Online Learning offered through the Online Learning Consortium. In a recent interview, he discussed both the legitimacy and benefits of an online degree. 
"There's been a big shift in the way people view online education, especially in the last year and a half," Allen said. "There's more acceptance from employers, students, and in higher education itself. We've seen so many advancements regarding what we thought was possible online." This rapid shift to online affected everything from education to community events and workforce practices.
"We had this huge swing in the number of people who began working remotely during COVID," he continued. "Some industries that don't offer telework options are now having trouble attracting and retaining staff. At the same time, employers are accepting that effective collaboration, innovation, and communication are possible in online modalities. An online degree is good preparation for that."
When evaluating the merits of an online degree, Allen recommended that prospective students first look at the university rather than the degree. For instance, The University of New Mexico is an R1 institution, a Carnegie classification for very high research activity; fewer than 5% of schools nationwide can claim that distinction. 
"When you get a degree or certificate from UNM, it doesn't specify whether the coursework was done online or not," Allen said. "The degree is conferred based on outcomes and standards for degree programs, not with how the degree was offered. Accrediting bodies look carefully at the way institutions support and assess student learning, regardless of whether programs were offered online or in person."
UNM places a strong emphasis on quality review to ensure superior courses — especially online — which is what another professional close to the pulse of online learning has emphasized. Austin Megli, strategic support manager for UNM Online, noted that "since many courses for our online degree programs have to pass rigorous peer-review before students are allowed to take them, the quality for some courses might actually be higher. You don't see that with face-to-face classes."
Employer hesitancy regarding online degrees is an "outdated myth that was true in the early days," he said, adding that, "You're getting the same — or higher — quality because of added metrics in place.
"None of the many employers I've spoken with have had concerns regarding prospective employees who earned their degrees online. It's a natural expectation that students who work full-time are going to school online." Working full-time and maintaining grades while in school is seen by many as a strong display of character.
Positives of an Online Degree
Pursuing an online degree has a lot of advantages that you may not be aware of. "Most significantly," Elisha Allen said, "for people who otherwise have difficulty getting access to education, it provides a way for them to earn their degrees. Regardless of whether they're geographically dispersed, have work commitments, family responsibilities, or other obligations, online, asynchronous learning — which means no specific meeting times — offers so much more flexibility in a way that works best for their lives."
The impact on people's lives can be significant. Allen noted the fact that there have been studies that have demonstrated how higher education is correlated to higher longevity, a greater sense of happiness and purpose, and better health. He points to an article from CNBC that explores some of the research connecting education with those outcomes.
"What online education does is open up those possibilities for many more people," said Allen adding that, "You'll always have students who need or prefer — and can afford — a four-year residential campus, but I don't think it's for everyone. Online education gives everyone the opportunity for success and a viable way to explore their dreams and interests."
And while the focus is often on people who truly need online education to achieve their goals, a lot of people simply prefer it. An online learning environment can be a more effective option for some learning styles and personalities.
"Another positive is for students who are more introverted or don't feel as comfortable in a large class," Allen said. "Reports from those students show that it's much easier to engage asynchronously when they have time to think through responses and aren't put on the spot."
Why UNM?
No johnny-come-lately to online learning, UNM has offered online classes for 25 years. The first, presented in 1996, was a course in Computer Logic Design that was hand-coded and had students submitting their assignments via email. It was followed the next year by an Organizational Learning and Instructional Technology course and, a few years later the first courses using a learning management system (LMS) were offered. 
In the intervening years, the university has consistently endeavored to improve its online learning experience with newer LMS's, instruction design experts who assist faculty, training on best practices for online instructors, and student input. UNM's online courses feature a rich multimedia experience that enhances the learning experience while giving students practical experience with a variety of applications beyond the LMS.
Today, UNM offers 30 fully-online degree and certificate programs serving students from New Mexico, across the country, and around the globe. And speaking globally, UNM is ranked #304 in the top 2000 universities worldwide in the Center for World University Rankings.
There is still more to recommend UNM to students, including being ranked #19 in the nation for ethnic diversity. "We're a Minority Serving Institution," Allen said. "Our demographic looks like the future of the US population. We're focused on underserved populations. That experience and expertise make us unique among institutions our size."
Combine that with the R1 classification — one of only 131 institutions in the country that are classified as R1 for very high research activity — and you can see why UNM is so special.
"A lot of people new to higher education may not understand what that [R1] means in terms of class delivery," Allen said. "Research is about the creation of knowledge, the exploration of new ideas and bringing those ideas into our cultural understandings."
"When we have faculty members engaging in their passions and cutting-edge research, it presents opportunities for students to get involved in the research and latest understanding in fields—in a way you wouldn't otherwise have access to."
You can gain access to a top-tier institution and the state's flagship university. Discover an online program that can fit your schedule and help you reach your goals.